Every Sunday
Never Growing Old
will post five
get to know you
questions that you can copy and paste into your own
Monday post and we can all learn a little more about
each and every one of us!!
Java will add a linky so we can follow who participates and get to know them better!!
Be sure to link the POST and not just your whole blog!
This is actually the 44th set of these questions. So, I am behind. But, thanks to Emmie, at
Emmie's Ramblings
, I have found it and plane to be a faithful participant.
So, Meet Me On Monday to find out all of those little things you have
always
wanted to know about me.
Now,
I shall answer the 5 questions
that I am sure
you have always wanted to know
about me.
Are you ready?
Set
Let's G-O-O-O-O-O-O! ! ! ! !
Questions:
1. Crunchy or Smooth Peanut Butter?
That would be CRUNCHY . . . smoothed onto one slice of bread with honey poured on the other . . .and, if I'm lucky, some bacon bits on top of the peanut butter and banana slices on top of that.
Y-U-M-M-O ! ! ! ! !
2. What is your favorite color of rose?
Joseph's Coat . . . the petals change colors as the rose matures from a bud to a full flower.
3. Do you remove your shoes when you walk into your home?
As a child, I always took them off on the west side of our dining room buffet . . . which is the exact place my Grandpa Winegardner took his shoes off . .and he died 4 years before I was born. Now, is THAT genetics or what?
Now, II try to remember to take them off in the kitchen, so I don't have a bunch of shoes all over the bathroom, which was where I formerly kicked them off.
By the way, if I take my shoes off when I enter your home, that means I feel totally at home in your home,
4. What's your favorite season?
Now this is hard . . . in Fall, the colors explode, in Winter the world looks white and clean, Spring brings new life everywhere and Summer means it is time to set on the swing and enjoy the outdoors.
5. Approximately how many hours a day do you spend blogging?
Hum, good one. I blog during my morning TV time. I blog from the beginning of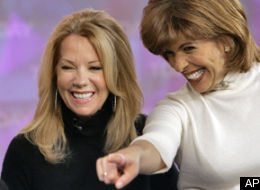 to the end of
Signed,
See You Next Monday