Update, Really? Seems like I haven't written a blog post in months.
I know the last one was when I finished the Mermaids tail blanket. Since then I have been working on two projects. One is a Dinosaur (really a Dragon) Tail blanket for the great nephew. Man, this and the mermaid are taking FOREVER. I have to crochet a piece 24" long by about 45 inches wide. I think I am at 18" long so pretty soon I will be able to start giving it the "tail"shape. Then make some purple "spikes" for the back of the lime green blanket and it will be done.
Second item I'm working on is another time-taker-upper. It's a Mochila Bag for my niece. Here's the bottom and about 1/2" of the side.
You can see the black pointy things on the edge. They will become diamonds.
Once I get the diamonds done I will start on this chart.
She is a REAL Nut Case when it comes to Indiana University Basketball and Football so I thought this would be perfect.
Then after I finish the 2nd row of Diamonds I will go into the IU portion. I'll probably have to adjust the pattern to make it work, but make it work I will.
The IU looks off center because of the extra column of Diamonds on the right, but it is pretty even, or as even as I can make it.
Next update is the body . . man, this aging stuff is wearing on my lower extremities.
I spent the last month in therapy for a torn meniscus. They worked on getting the muscles stronger which will help support the left knee, where the meniscus is torn. It tore before and I had the rough/ragged bone and whatever else needed cleaned out of it cleaned out in 2002. So it's been 15 years since it causes me problems. Hopefully, I will just need to keep those muscles strong.
Now, what will make if not stay strong is my darned right ankle. I have had Plantar Fascitis in it for years. It will work good then the plantar fascia tendon will rear it's ugly head. I knew, though, that this was different. This time I have a posterior tibial tendon dysfunction.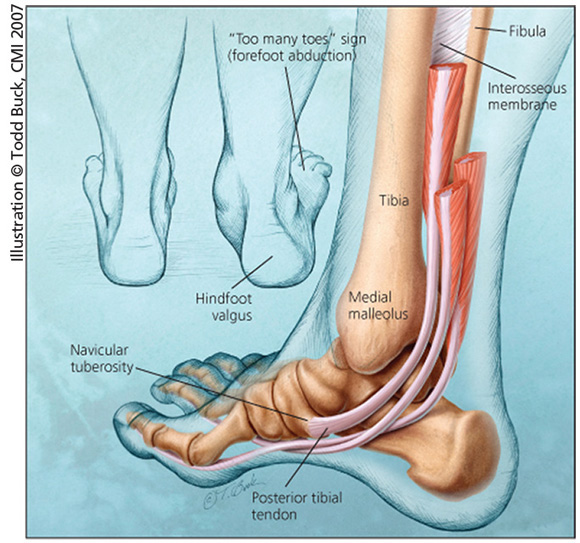 See how the right foot in the diagram "slides" in? This means that the foot is losing its arch. I haven't lost mine but it is going that way.
The diagnosis was made in a weird way, but I found out it was the main way to diagnose it:
1. He held my left hand to help me balance and I had to go up on my left toes and hold my right leg off the floor . . kind of looked like a Flamingo sleeping. Anyway, had to do it 10 times.

Repeat on right foot. Couldn't get my heal ff the floor. STRANGE feeling. Can you imagine not being able to balance on your toes?
Anyway, he signed me up for therapy again. The main thing he wants is some strengthening but more so using electric currents on the tendon to relax it.
Best case scenario is this will loosen it up and I can go back to walking normally.
Worst case would be surgery. Between the two is having a splint put on the foot to keep the foot in the correct position and stretch the tendon out.
Best part is that now when I get off the sofa at least I can push off with my left leg now that the knee is stronger. Before I had to decide if I wanted the knee or ankle to scream out in pain :(
Hopefully I'll be back quicker than I was this past time.