People in the City of Tonawanda ought to know that two of the greatest war stories ever told were lived out by two of their own, according to one amateur historian.
As the number of surviving World War II veterans dwindles, Amherst's Rick Lewis has opened his mind and his wallet to that end, working to ensure residents of the city aren't the last to hear their tales.

For roughly a decade, he has engrossed himself in history, including several books written by surviving members of Easy Company, part of the 101st Airborn Division, a group of men who signed up to be dropped behind enemy lines long before skydiving was considered a relatively safe thrill.
Lewis is not himself a veteran of the war, but an amateur historian and former president of Talking Phone Book. His family has lived in the city for at least a century.
He is working on a project to erect a war memorial at Niawanda Park — one dedicated to all veterans but with a focus on veterans from the City of Tonawanda whose war experiences led to the book and HBO series "Band of Brothers," and to the blockbuster hit movie "Saving Private Ryan."
The stories are those of men like Skip Muck, a young city resident who died at the Battle of the Bulge, but who was already more famous for his modest high jinks, his time playing high school football and for swimming across the Niagara River on a dare.

Muck was a key member of the "Band of Brothers," portrayed in print and later in the mini-series that captivated viewers across the nation and the world.

Likewise, few had heard of the Niland family, also from this small city of 16,000 souls, even as millions of people stormed theaters and later movie shelves to see Steven Spielberg's blockbuster film "Saving Private Ryan." Many here might easily have missed the most important detail of all.

Muck and the four Niland brothers — whose exploits have helped form much of the basis for an entirely new generation's understanding of the war — were friends who grew up and lived in the City of Tonawanda. Both have shared an amazingly large audience in recent years and both hail from a city little more than three square miles in size.
Interestingly, Fritz Niland and Muck had met up in wartorn London prior to Muck's death, Lewis said.

Descendants of both clans remain to this day residents of both Twin Cities.

The Nilands' is a story revolving around a real life experience, a story about the uncommon predicament of a mother told she has lost three of her four sons to the perils of war.

In reality, three of four Niland brothers were thought to have died, two of them did.

It was Fritz Niland, prisoner of war, who was presumed dead along with his two brothers when an Army chaplain visited his mother with the news all those years ago.
The movie's opening scene involves an Iowa farmstead and a country road. The real story involves a modest home near Elmwood Park. The news bearers didn't beat up the dirt in America's farm belt, they drove down Military Road from an office in Buffalo with their grim message, made a left on Seymour Street among several other turns before delivering the message that would inspire the film.

The monument, proposed to be built this coming June on a strip of grass between City Hall and the foot path running along the river at Niawanda Park, will cost Lewis at least $30,000.

For him, it's a small price to pay.

While plans call for a memorial to all veterans as well as two markers assigned for the above described individuals and families, Lewis said room for additions is also a key theme.

On Thursday, immediately
following a meeting with the local Navy Seabees organization, Lewis explained why the project should be a priority.

"I thought, these are very important stories that need to be told," he said. "Skip Muck was killed when he was 22 years old. He did not have an easy life or a very long life. It's only appropriate that his sacrifice should be acknowledged."

And what's more, the city should at least embrace the heroes whose stories have touched so many as their own.
Of course, there is a disclaimer: The studio has never publicly stated that "Saving Private Ryan" should have been called Saving Private Niland. It has never been stated by production executives as fact.

On the other hand, there is the fact that members of the Niland family were flown to a private screening of the movie on or around the time of its release in 1998, not a coincidence.
Then there's this passage in a book by real-life Easy Company members William Guarnere and Edward Heffron copyrighted 2007, with a foreword by Tom Hanks himself, the lead character in the film:

"Nobody knew Band of Brothers outside the military community. Then Tom Hanks read it and Steven Spielberg, and from one paragraph about Fritz Niland, a kid ... who had three brothers in the war, came Saving Private Ryan. Skip Muck, who we lost in Bastogne, was childhood friends with Fritz Niland ...," the passage states.

"The primary memorial will honor everyone who lost their lives," Lewis said. "And there's kind of unlimited potential for adding other stones."
Many people may not be familiar with these stories, which is why eliminating the confusion was one reason Mayor Ron Pilozzi barely let Lewis get through his pitch for the idea last spring before offering his approval.

"There's good reason for that," Pilozzi said, adding he was also a member of the same Army division years later in Vietnam.

He served at a remote battle station named after the place Muck was killed during the Battle of the Bulge called fire support base Bastogne. Bastogne is the Belgian town where Muck died when a shell found his foxhole, just hours after a makeshift religious ceremony held atop a Jeep, after which Muck had quipped grisly "now we can all die in a state of grace."

"Here we are in the small City of Tonawanda and it took all these years and two movies to bring out the fact that two people ... gave up their lives to serve this country," Pilozzi said.

And indeed, there are others the planned monument will similarly represent.

"If you stop and think about it, it's the movies that gave these two families the prominence they never had before," he said. "Not only for their families, but for everybody else."

The American Legion Post 264 has taken on the role of actually contracting with the future builders of the memorial. Chairman Dennis Smilinich
(a neighbor of ours on Grove Street)
has expressed his approval of the plans but couldn't be reached Thursday for additional comment.

"You get exactly the same reaction from everybody," Lewis said of the excitement surrounding the project. "They enthusiastically sign up and I get a lot of people saying they thought this is the kind of thing that should have been done a long time ago."

After all, say those involved with the plans, it should matter at least as much to residents of the Nilands' and Mucks' hometown as it did to Sgt. Don Malarkey, a member of Easy Company hailing from far-flung Oregon state, when he wrote this in his 2008 novel "Easy Company Soldier:"

"So on that day in 2004 when I visited the cemetery where Skip is buried, I looked at that white marble cross and that name — Sgt. Warren H. Muck — and thought of the kid who swam the Niagara. The march to Atlanta. The smile. I knelt, placed flowers at the base of that cross. Prayed. All the things I'd done before when I'd come to see his grave. Only this time I did something different, long overdue, and hard but freeing. I cried 60 years worth of tears."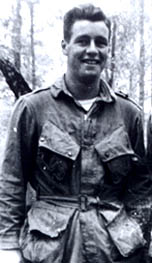 Frederick'Fritz'Niland of Tonawanda, NY was a Sgt in H/501 PIR. He was misdropped below Carentan on D-Day, but fought his way back to the 501 with his buddy Jack Breier. The 1943 photo above was made with Breier's camera. Although virtually every writer who tells the Niland family story manages to gaff-up the details, the basic facts are these; all three of Fritz's brothers, who were on active duty with the U.S. military, became casualties in less than three weeks. Oldest brother Eddie was on an Air Corps bomber, which was shot down in the C.B.I. on 16 May, 1944. His mother, Augusta, received the MIA telegram about Eddie on 8 June, 1944. Her other three sons were all participating in the Normandy invasion with the Army.
Robert, a.k.a. "Bob The Beast" Niland jumped near St Mere Eglise with D/505PIR, 82nd Airborne. Bob was killed in heavy fighting at Neuville au Plain on June 6th. Brother Preston was a lieutenant in the 22nd Infantry Regiment, 4th Division, and landed on Utah Beach. On 7 June, 1944, he was also killed in the area NW of Utah Beach. When Fritz
returned from his misdrop circa 11 June, he rejoined H/501 and was decorated for grenading a German m.g nest at Hill 30 on 12 June. After learning that Fritz was probably the sole surviving son in his family, Fr. Francis Sampson, Catholic Chaplain of the 501, started paperwork to have Fritz sent back to safer duty in the U.S. The paperwork took quite a while to go through, and didn't come back approved until the end of the summer.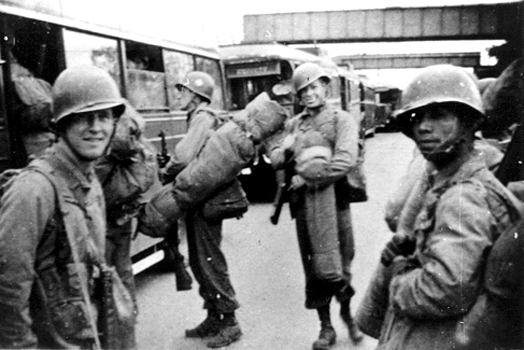 Fritz was NOT pulled out of the front lines, as Ambrose asserts in his books. Fritz remained in Normandy with the 501 until they sailed back to England on an LST. The photo above was taken by Fritz's best buddy, Jack Breier in Southhampton, England in July, 1944. The troops had just debarked the LST and were loading on buses to ride back to their base camp at Lamborne, England. Cate, Fritz's daughter has verified that the trooper standing at left in the photo is Fritz Niland.
Fritz remained with H/501 through the summer of 1944, suiting-up for two missions which were canceled, before the orders came through for him to return to the Zone of Interior. Fritz protested the order-he wanted to return to battle and avenge his lost brothers. Against his objections, he was overruled and sent back for M.P. duty in N.Y. state until the war ended.
One of his brothers did survive-Eddie returned from his MIA status many months later, having been in a Japanese P.O.W. camp. Mrs Niland did NOT receive three telegrams in one day regarding the loss of her sons,(I still can't figure out where Ambrose conjured-up THAT particular fiction-it was good Hollywood stuff for the movie though.) Also two, not three of Fritz's brothers were in fact killed in action. The story of the Nilands wound-up in two of Ambrose's books, and Hollywood screenwriters used the basic scenario of a 101st paratrooper who had lost three brothers as the starting premise for the screenplay of 'Saving Private Ryan'.
The connection to Easy Company was that Warren 'Skip' Muck knew the Nilands from their mutual hometown of Tonawanda, N.Y. Before D-Day, Skip, Don Malarkey, Joe Toye, and Chuck Grant, met Bob and Fritz in London. Bob Niland had already experienced battle with the 82nd Airborne and gave his eager audience some views on the realities of combat.
After returning home from WW2, Fritz Niland did not "cure some disease, or invent a longer lasting lightbulb"-instead, he became an oral surgeon and innovated new techniques in that field, which is more than the average man will ever do. According to Cate, Fritz was a compassionate man, who hated to see people in pain. That drove him to pursue dental work, as a means of helping aleviate much suffering. Fritz Niland passed away in the early 1980's but his daughters Cate and Mary are active in attending WW2 functions and Airborne reunions. photo above courtesy Jack Breier. The Niland family story as told in Ambrose's book 'Band of Brothers', was based on testimony from Don Malarkey as well as Father Francis Sampson's factually skewed writing. (There is a detailed discussion of this in the last chapter of my current book). Living way out in little Astoria Oregon, Don had no contact with the Nilands after the war, so could not learn the details about Eddie surviving the war, etc. It's too bad Ambrose didn't contact the Niland family (a number of them are easily found in the Buffalo, NY area), as they could have set him straight on the details of their family history.
The Niland family was not mentioned in the BoB miniseries.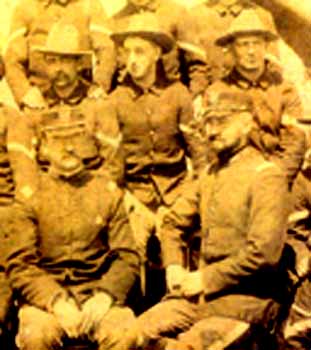 Fritz's dad, Mike "The Bull" Niland, served in the Spanish-American War, with the Rough Riders. Mike is pictured at top right above, sitting with Teddy Roosevelt(lower left), at San Juan Hill, almost half a century before D-Day. photo c/o Cate Niland.
Signed,
Proud Daughter of a Veteran and Wife of a Veteran
(6900)